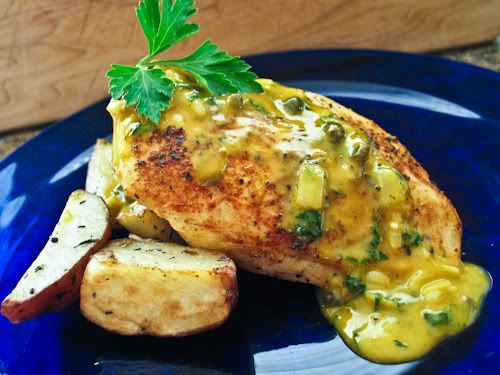 my crazy schedule is to be blamed for the lack of attention this blog has been getting… or not getting, i really don't know how to phrase that. but you get my point, right?! but anyway, the past couple of weeks had been very hectic for both me and shawn. we had been going out to see family, and just plain busy at home. yesterday, we cleaned so much! and i am telling you… a lot, like filled-half-the-96-gallon-garbage-bin a lot. it was a very tiring day yesterday and apart from cleaning we repositioned the bed and did 3 loads of laundry. oh my, writing it down makes me so tired already. but it's a good thing that it's over now and i can breathe again.
now, let's talk about food. i made this dish twice last week and it's really easy. first, i was just playing with the ingredients i had and made dinner for me and shawn and he liked it. he liked it so much that he pimped me into doing it again at his cousin's house. so his cousin and i went to
safeway
and bought the stuff, because she only had green onions in her fridge. i also made
herb roasted potatoes
, but you know what, i really do think that i should venture into other sides. seriously! like what out friend vince made when we went there this week. he made mashed potatoes with mustard seeds. it was really good!
anyway, let me give you the recipe. and you should try it! its really good!
chicken with lemon and caper sauce



what you need:
3 chicken breasts
paprika
salt and pepper
2 tbsp oil
for the sauce:
splash of white wine
1/4 cup finely chopped onions/shallots
1/2 stick of butter
2 tbsp capers
juice of 1 lemon
1/4 cup chopped parsley
1/2 cup milk/cream/half & half (depends on how creamy you want the sauce)

what to do:
1. heat up a pan with oil in it over medium heat.
2. make sure you pat the chicken breasts dry so that it'll brown, then sprinkle it with salt, pepper and paprika.
3. cook the chicken for about 5 minutes on each side, if you're not sure if the chicken is cooked all the way through, cut a little slit on the thickest part of the breast and see if the juices run clear. if not cook a little bit more.
4. when the chicken is cooked, take it out of the pan and cover it with foil.
5. don't dump the drippings just yet, we're going to use that to make a pan sauce.
6. crank up the heat to medium high, and add a splash of wine into the pan to loosen up the caramelized juices at the bottom of the pan.
7. add the butter and after it melts, add the shallots/onions and capers. cook until the onions are translucent.
8. add the cream/milk/half & half and lemon juice. cook for another minute or two, whisking/stirring constantly to make sure nothing breaks/curdles.
9. remember, taste it as you go and salt and pepper it too. take it out of the heat and add the parsley.
10. serve with your favorite side. i used herb roasted potatoes. oh, and some roasted garlic to.