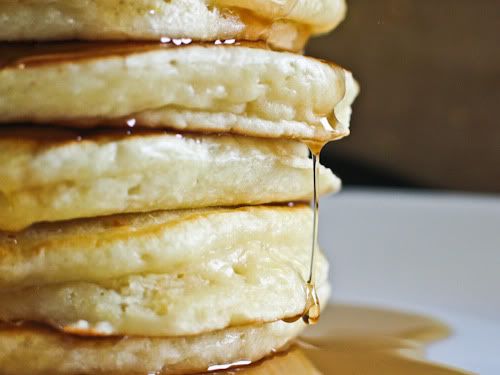 me and shawn's daily routine this winter break includes, shawn waking up really early to let out randall, because honestly i am crazy in the morning. well, it's because i sleep so late from catching up on shows i have missed that day because we don't have cable right now since it's the recession. and besides, i can download almost any show online… well, except
food network
, sad i know. he would then feed randall and go back to sleep and we would wake up around noon already. that's the reason why i don't get the chance to make a lot of breakfast type food these days, and making it around noon is just weird to me. so i just normally cook lunch food. but we like breakfast food a lot and shawn loves pancakes so making this was a really good idea and it's something both of us would enjoy since we miss eating it!
i know that a lot of people grew up eating the
joy of cooking's
buttermilk pancakes. not me. well, living in the third world, i grew up on powdered milk and white bread with butter and sprinkled with sugar. pancakes weren't a household staple there, but some small bakeries and food vendors who carry their merchandise on their heads with a
bilao
(bamboo baskets) would sell pancakes, or hotcakes as we call them, in the afternoon around 3pm. they would be much sweeter than what's normally served here in the states. they're also smeared with salty margarine and sprinkled with sugar. those vendors obviously don't know a lot about healthy eating, but hell, those things were chunks of heaven wrapped in a plastic bag. yes they give those hotcakes to you in clear transparent bags, just like the bags in the produce section of your supermarket. weird, huh?! that's the philippines for ya!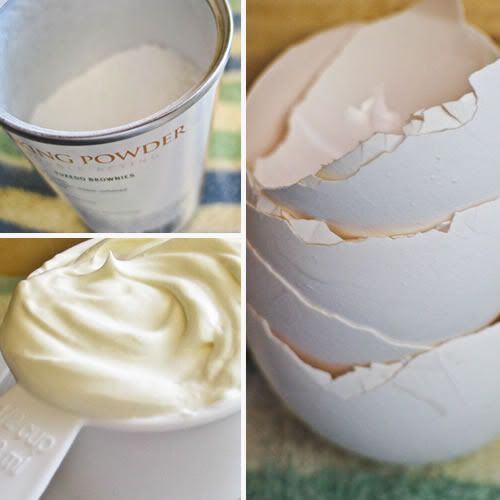 i love those hotcakes, it's one of the things i remember eating when i was a kid. sweet, salty and greasy, that's how i ate my pancake when i was younger. let me stop talking about my childhood for now and talk about these pancakes.
i was supposed to make muffins with the sour cream i bought, but then after i got home i didn't want to make muffins anymore. so the sour cream sat there for about 3 days. then i remembered shawn telling me that he was craving for pancakes a few days back, i think before i bought the sour cream, then i thought, hmm, if there's a buttermilk pancake, then i am almost for sure that somebody had made a recipe for sour cream pancakes. so i grabbed my computer and typed in sour cream p… then google search suggested sour cream pancakes ina garten. I WAS IN HEAVEN! ina garten is my favorite food network star and i just LOVE her. do the capitalized letters show how obsessed i am over her? hi ina! i know, it's a long shot that she'd be reading this. anyway, after gathering my self up from that excitement, i went to the kitchen with laptop in hand, opened it on the counter and started getting all the necessary components to make them and started getting into it! i think this will be a staple in my kitchen now.
this recipe is really quick, easy and so good. really good! so you, yes you! go get that unopened tub of sour cream in your fridge and make this now! i don't care what time it is where you're located, i'm pretty sure it's morning somewhere and besides, breakfast is good anytime.
here's the recipe, enjoy and bon appetit! oh, and as andrew zimmern says, "if it looks good, eat it" and this one does!
sour cream pancakes


by ina garten (she used bananas, but i didn't have any)



what you need:
1 1/2 cups flour
3 tbsp sugar
2 tsp baking powder
1 1/2 tsp kosher salt (i'm pretty sure regular table salt is fine, just use 1 tsp though)
1/2 cup sour cream
3/4 cup + 1 tbsp milk
2 extra large eggs (i used large eggs and it turned out fine)
1 tsp pure vanilla extract
1 tsp grated lemon zest
unsalted butter

what to do:
1. sift together the flour, sugar, baking powder and salt in a bowl. no sifter/fine wire mesh? use your whisk! whisk the dry ingredients together.
2. on another bowl combine sour cream, milk, eggs, vanilla extract and lemon zest.
3. add the wet ingredients to the dry ones and mix only until combined. don't overmix the batter, or your pancake will be chewy, dense and tough!
4. melt a tablespoon of butter on a large skillet over medium low heat until it bubbles.
5. ladle the pancake batter into the skillet and cook for about 2 to 3 minutes or until bubbles appear on top and the bottom is nicely browned.
5. flip those babies over and cook for another minute or so until its browned.
6. serve warm with butter and maple syrup, and if you're like my boyfriend douse it with syrup!