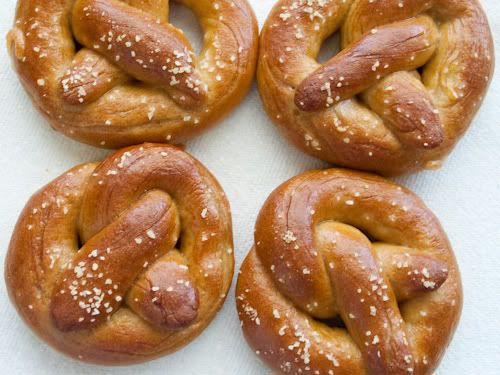 it has been a long time since i posted something, i wish i could blame it on my crazy hectic schedule, but that excuse was just for may and early part of june, then it's all because of laziness after that. i didn't even realize that my blog had been online now for a little over a year, which is exciting. but, looking at it, i don't have a lot to show for it, i have less than 50... less than 40 posts, which in the food blogging world would be cuh-razy. some bloggers post more than 30 on their first quarter! what i'm trying to say is that, i am really disappointed that i haven't kept up with this blog. with the amount of cooking i do on a regular basis, i should have tons of recipes posted on here, but then again... i was lazy.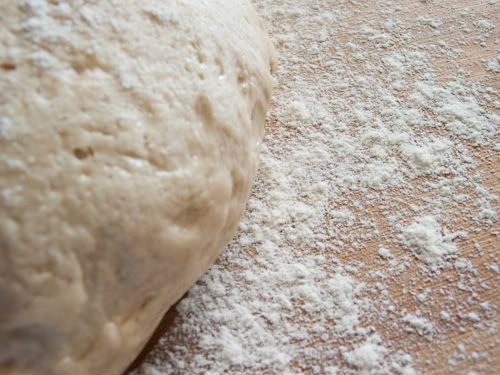 on a happier note...
BELATED HAPPY BIRTHDAY BLOG!!!
so it's been more than a year since i posted my very first recipe, and i am really quite excited that i have reached this point. i have blogged in the past but none of them lasted this long. so, even if i have ranted, got depressed and took prozac on the first part of this post, i am still giving myself a pat on the shoulder for going back up in here. so before i get you all depressed, let's talk about pretzels.
i had a pretzel last month after shopping, then i thought, "this seems easy to make, why haven't i made it yet?!". that had been in the back of my mind since then. i have been looking around for pretzel recipes and this seems like the easiest one. i am telling you after a long hiatus from blogging, i needed an easy recipe for this blog so that i don't end up throwing away and not posting the end result.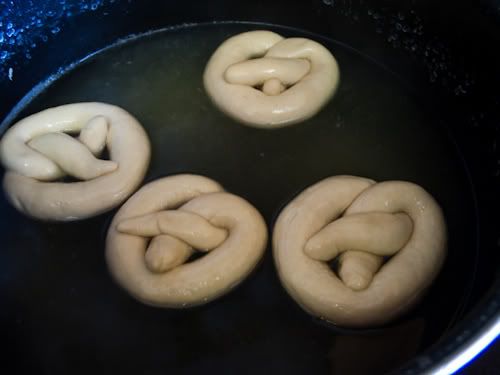 so, yesterday afternoon, i started my journey to pretzel heaven and it was all about waiting. i think as much as i am addicted* to bread, i am not too fond of making it because of the waiting. if only there's a way to make yeast breads really really fast (suggestions?). if you don't include the waiting time, making this should've been fast; but that waiting thing can't be avoided, unfortunately.
by the way, i did not stick to regular ones, some of them had garlic, shallots and cheese on top. since my boyfriend is such a cheese fiend, i said why not. but i had slight issues with the ones i topped with garlic, had a a slight fishy taste to it. i am not sure what it is exactly, maybe it was the garlic, but i used fresh ones (at least i think they're fresh). oh, before i forget, just for fun i included a short video with cheesy background music on
how to twist them pretzel dough
. excuse the tummy! without anymore interruptions, here's the recipe i followed.
mini soft pretzels

what you need

2 cups warm water, 100 degrees to 110 degrees
1 tablespoon sugar
1 teaspoon active dry yeast
5 to 6 cups all-purpose flour, plus more for dusting
1 tablespoon salt
2 teaspoons canola oil
2 tablespoons baking soda
1 large egg
Coarse or pretzel salt
Vegetable-oil cooking spray


what to do
1. Pour warm water into bowl of electric mixer fitted with a dough hook. In a small bowl, combine water and sugar, and stir to dissolve sugar. Sprinkle with yeast, and let sit 10 minutes; yeast should be foamy.

2. Add 1 cup flour to yeast, and mix on low until combined. Add salt and 4 cups flour, and mix until combined, about 30 seconds. Beat on medium-low until dough pulls away from sides of bowl, about 1 1/2 minutes. Add 1/2 cup flour, and knead on low 1 minute more. If dough is still wet and sticky, add 1/2 cup more flour (this will depend on weather conditions); knead until combined, about 30 seconds. Transfer to a lightly floured board, and knead about 10 times, or until smooth.

3. Pour oil into a large bowl; swirl to coat sides. Transfer dough to bowl, turning dough to completely cover all sides. Cover with a kitchen towel, and leave in a warm spot for 1 hour, or until dough has doubled in size.

4. Heat oven to 450 degrees. Lightly spray two baking sheets with cooking spray. Set aside. Punch down dough to remove bubbles. Transfer to a lightly floured board. Knead once or twice, divide into 16 pieces (about 2 1/2 ounces each), and wrap in plastic.

5. Roll one piece of dough at a time into an 18-inch-long strip. Twist into pretzel shape; transfer to prepared baking sheet. Cover with a kitchen towel. Continue to form pretzels; 8 will fit on each sheet. Let pretzels rest until they rise slightly, about 15 minutes.

6. Meanwhile, fill large, shallow pot with 2 inches of water. Bring to a boil. Add baking soda. Reduce to a simmer; transfer 3 to 4 pretzels to water. Poach 1 minute. Use slotted spoon to transfer pretzels to baking sheet. Continue until all pretzels are poached.

7. Beat egg with 1 tablespoon water. Brush pretzels with egg glaze. Sprinkle with salt. Bake until golden brown, 12 to 15 minutes. Let cool on wire rack, or eat warm. Pretzels are best when eaten the same day, but will keep at room temperature, uncovered, for 2 days. Do not store in covered container or they will become soggy.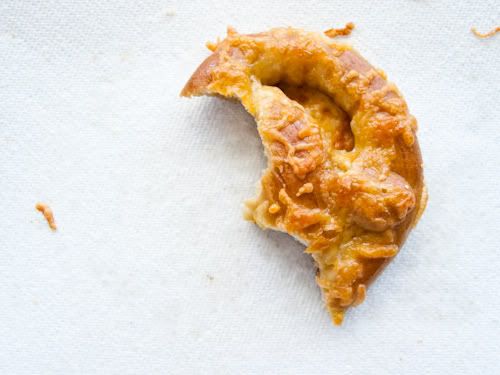 *confession:
i am a bread addict. i can finish a loaf of white bread in one sitting (i kid you, not). and if there's more i can eat all of 'em too... well, more like inhale 'em (hence hence the tummy on the video).